Denim love-heart key chain or a bag charm
This raggy edge denim key chain is really good-looking and makes a cool gift for almost everyone! How nice to receive such gift that speaks for itself and can be used every single day!
The key chain is very easy to make and any beginner can sew it. It can be sewn by hand as well as by machine.
Preparation
You will need:
Some denim. Preferably strong and non-elasticated, so that the raggy edges look good.
String (shoelace will do) – 12 cm.
Metal key loop.
Decorations – let your imagination run wild!
Filling.
First of all draw or print the heart shapes. You can free download and print this shape which I am using:
If you set your printer on "Actual size", you should have the exact size heart appearing on A4 paper.
Now you have the paper shapes, start with making the design of the front side. Sew on some lace or buttons. Let your imagination do the job. Or if you are making this raggy edge design, then join the leg edge with another piece of denim as shown below.
Place your paper shapes on the prepared pieces of denim. Make sure that the leg edge seam is diagonal. Cut around the paper shapes, adding 3-5 mm seam allowance. I use freezer paper, it is the best thing to work with shapes and patterns.
Sew it up
Fold the string in half and place the ends of it between the two pieces of front and back, so that they are tucked inside for about 1-2cm, to make sure they will be stitched in securely and will not fall out. You can put the metal ring right now or you can add it in the very end.
Now stitch all three parts together making sure that the string sits in nicely, keep hold of it all with your fingers, and better do few stitches back and forth for strengthening. This is important, so that the string stays there for the long time of use.
Pin the two parts of the heart and stitch around as shown on the picture, leaving an opening on the side of about 2 cm. Stitch about 0,5 cm from the edge. Make sure that the start and the finish of your stitching is secured enough for the next step.
Stuff the heart with filling through the opening (remember, you can use some stuffing from an old cushion). It is easier pushing the pieces of stuffing with a pencil or screwdriver or something like this.
Don't stuff too much, just enough to fatten the heart. Too much stuffing will make it difficult to make the next step.
Stitch the opening up. And as you do, best is to go around your heart for the second time for strengthening !!!
You can do all this by hand too!
Finishing touches
The love-heart keychain is ready! Just need to rag it up and put the keyring on. To rag it up, harshly doss the heart in your hands, rub it against your palms and so on…
For a more professional effect, do the same but wet the edges with water! Or take a piece of cloth, wet it and rub along those edges. Don't worry, if it will survive this distress test, it will surely last! Trim off loose threads and let to dry.
Feed the metal ring through the string loop, which you've just made. TIP I usually open up one end of the ring with help of a flat screw driver and then, keeping the screwdriver in, feed along in circles.
How to attach the metal keyring in seconds and pain free:
Hurrah! You have made a super lovely and TRENDY DENIM ACCESSORY!
I think now, you know how, you can make many more! I am sure everyone of your friends or family would love such gift! Add some other décor, try other styles, you can add buttons, lace or join different shades of denim… And you can try some other shapes too! Be creative!
Or how about making a star shape key-chain?
Or even Xmas tree decorations?
Those Xmas tree decorations are made in exactly the same way as the hearts. Simple and so cute, they will make a very nice addition to your sustainable Christmas or be a nice little gift to eco-thinkers.
Download the file below to print the shapes of snowman, cat, tree and heart.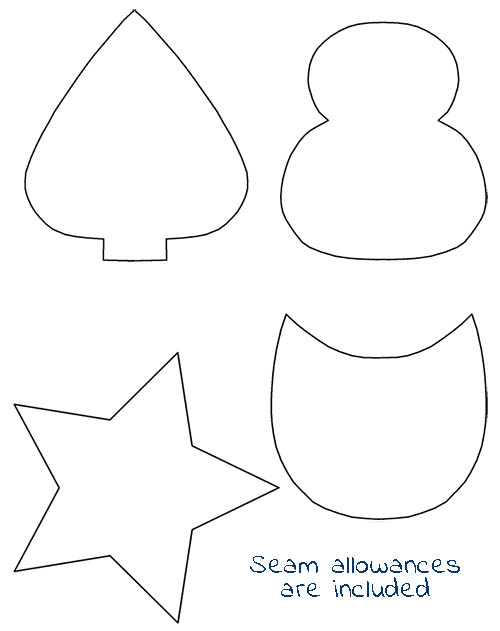 Spread the love not only on Valentine's Day!
---
Check out other easy gifts to make >>>
I love it when people are creating! This is such an excitement! I would love to see what you have made too! Show me on Instagram 😉 by tagging me @makeitindenim