This technique is called Chenille and here are some photos to get you inspired. It can be also used with many different colors on the inside and on the ouside, but I just love the scary look of red scratches on black denim or camo fabric.
Let's rip it up!
Rips are great and unusual way to decorate your textile items. They can be used on throw cushions, makeup pouches, bags and so on. In this tutorial I will show you how to make textile rips on a small item such as key ring.
So the idea of the Chenille technique is to sew through few layers of fabric and then cut and fray. The most important points are – the correct placing and stitching of the layers and correct cutting.
Understanding the texture
You can see on this picture that there are ribs on the black denim. You will always find lines like this in the fabric texture. Those lines usualy go horizontal and vertical, but may vary in denim. The point is that for the Chenille we have to sew and cut diagonal! Or against the ribs (see the red lines). This is important for the raggy result in the end.
Cut out your project parts. Mark the lines where you want your rips to be and prepare some fabric pieces for the inner layers. I am using only two red layers, because the item is very small. But you can use more layers.
Sew it right
Place and pin the underlayers on the back of the body. In this project the red fabric must not reach the edges of the heart. But if you are making something else with no raw edges, then the underlayers can be placed to cover the whole item body.
Now stitch all layers along the marked lines. Along means not on top of them, but next to. In my case I am making two rips, so I will make three stitches, so that each rip is secured on both sides.
The stitching is parallel, is about 1 cm apart and is best done in the same color thread as the top fabric.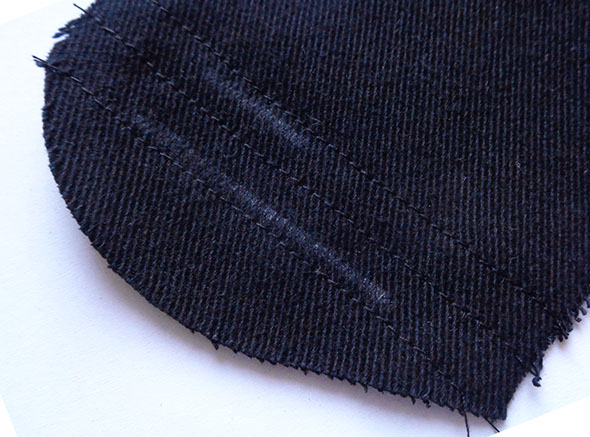 Cutting time!
With the seam ripper (or manicure scissors) rip through the fabric right in the middle between the stitching lines.
DO NOT CUT THE LOWEST BOTTOM LAYER !!!!!!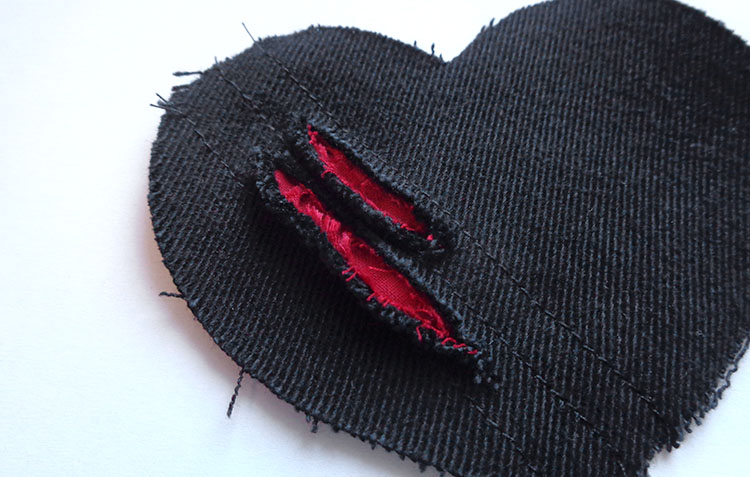 Rag it up a bit and you are done! If you want to continue making this heart key chain, you will find the full tutorial here>>>