Classy and so on trend, this denim hobo bag from a pair of jeans is easy to match any outfit. And it is easy to make too. You will need a pair of large jeans with wide straight legs.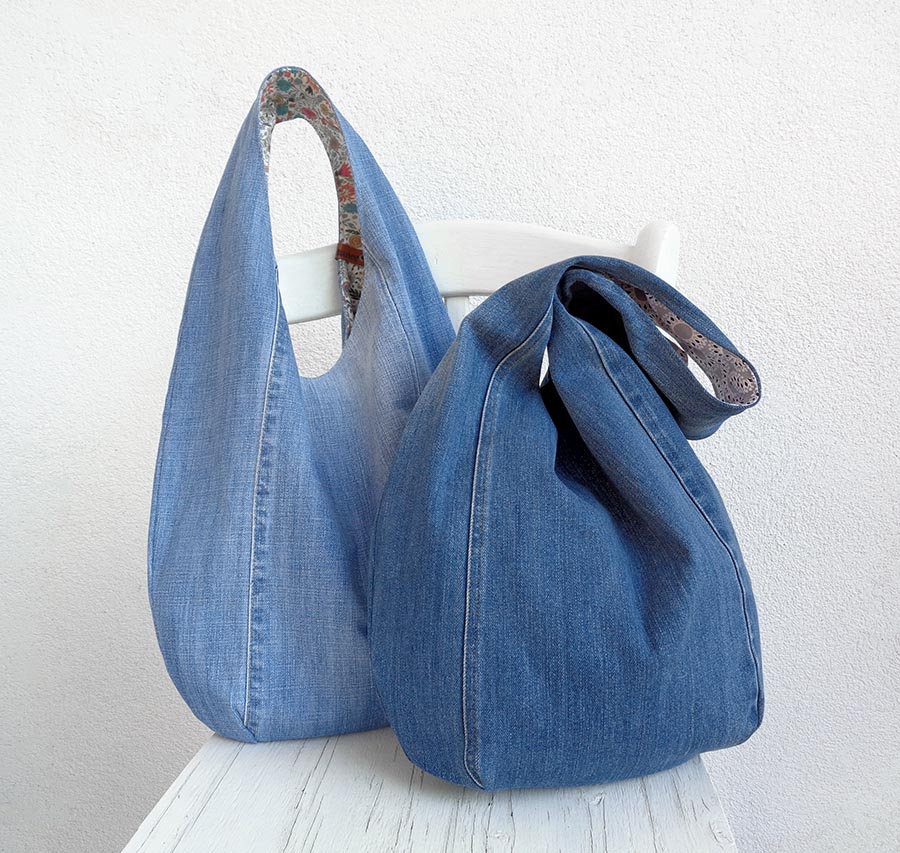 The pattern can be used to make this hobo shoulder bag in other fabrics. But sing old jeans for your craft projects helps our Mother Nature in a very big way! This bag is a great DIY sewing project for the green crafters :))
But I really would like to show you how it's made with jeans legs. Denim is never out of fashion and denim bags go well with almost any outfit!
I will also show you how to make an absolutely neat handle, which you can use in other bags too. I know there are some tutorials about how to make a handle like this, and there different ways to do it. And I also know that the way I make it gets the most tidy result and all seams are 100% enclosed. The handle is strong and professional looking. For those who have already been trying sewing this type of bag – yes, there is a trick in the order of sewing parts together.
I'd rate the difficulty level as medium. It's not too complicated, but you do need some sewing experience.
Size of the finished bag –
Width when flat 17″ (43 cm)
Height when flat from the opening 15″ (38 cm)
Handle drop 12″ (31 cm)
It becomes smaller once filled and draped down, as there is depth added then. I'd call it medium or slightly larger then medium.
To make this bag you will need –
To make this denim hobo bag from a pair of jeans you'll need… a pair of jeans 🙂 The size of the jeans should be Large. But due to so many shapes and leg widths, I'd rather give you the following measurements. Those are minimum for the pattern to fit. The larger — the better and easier to work with 🙂 Leg length measuring from bottom hem to the bum pocket — minimum 72cm (28"). Leg width just below the knee — minimum 23cm (9").
You might wish to have a magnet clasp for this bag, but it is optional.
You will also need some fabric for the lining – two pieces of 50×75 cm. If you are buying it from a roll, get 0,5m. But if there is a direction of print on the fabric, pay extra attention, as you might need 0,75m. Not much anyway, and all details will be described in the tutorial.
This printable pattern and step by step instructions with tons of photos can be purchased from:
Adding some décor onto bags sometimes is a pure necessity! You'd find some imperfections on old jeans very often and instead of giving up on your sewing project, just think how you can cover it up by adding something on 😉 If you wish to learn more about decorating and painting on your bags, visit my lesson here >>>.
---
Check out other ideas on upcycling jeans into cool stuff here>>>
Or get some knowledge on handling denim here>>>