How to handle flaws and imperfections
Imagine you have this pair of cool jeans and you love the pockets, the colour or the quality… And there is this ONE SPOT that is spoiling everything. You have tried placing the pattern this way and that way and this spot is always in the middle. Grrr! Lets see how we can manage the faults and imperfections of second hand jeans for our sewing project.
Different faults of used denim
I am a perfectionist and I never let any of my bags to be sewn with noticeable spots, discoloured lines or bad-looking signs of wear or storage. Some spots are not washing off no matter what you try, some lines or creases are not defeated by an iron… In this article I will show you how to deal with those faults on a few examples.
Before making anything from old jeans it is very important to wash them first. It might be that some spots and soiled stains are actually washable. There is a very special but easy way to wash any textiles, used jeans especially, with soda. Find out here >>>.
The imperfections are may be not so clear to see on photos, but you know that feeling when it keeps catching your eye and annoys you!
Retouch with paint
The point of this method is to choose right paint and very slightly retouch the ribs of the threads on the spot. Look closely to the fabric, it is not smooth, it is ribbed. So you are not painting over it, you just gently covering some of the threads to maintain the texture of the denim.
Please never use your usual ball-point pen! It might look blue to you, but really once on denim, it looks purple and it doesn't wash off! Instead, use textile or acrylic paint. And the colour to choose is grey. Honestly, upon years of my experience, grey colour works best for denim and I don't even have blue paint in my workshop.
Stencil something on
This happens quite a lot – a good pair of jeans gets discoloured lines along the side seams due to storage or some random light streaks after a machine wash.
There is not much you can do to hide it. But adding some cool design on top – is one of my favourite ways. Look at the picture below – there are discoloured lines here and there. The bag will not look good just as it is.
So let's add some text and paint splashes for a grunge and rock look. You can use stencil shapes and letters. The paint you will need is not necessarily a fabric paint! It must not wash off, so it can be an acrylic paint, the artist's one or even from a builder's shop – in large jars.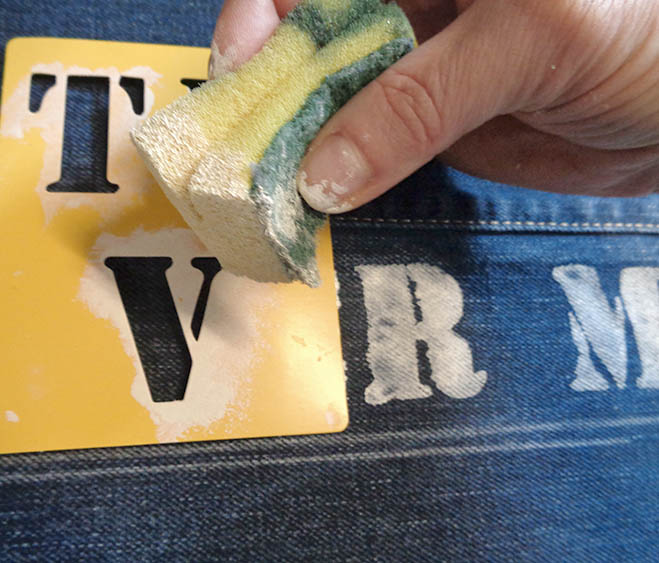 Depending on your letter stencils, you might have to draw some guide lines with chalk. For stamping – you can use a kitchen sponge 😉 Try different colours or a different amount of paint to make some words or letters to stand out more.
If you don't have stencil shapes, you can make your own. Print a simple design on a normal paper and cut it out. Of course this stencil will only last you for one use, but it will do the job! Just be very careful while stamping, the stencil has to stay in place.
Splat some paint
Paint splats are awesome and so unique that nobody can predict the final result. You have to be brave and cover as much area around it as possible! Yes, it splashes everywhere! I keep finding tiny dots of white paint in very unexpected places, if I don't cover about a meter around. Also cover the parts of the bag where you don't want any paint to be.
Sprinkling can be done by a brush or your fingers. Surely it is a good idea to practice first on something else!
Draw something
Simply draw something on your bag! You don't have to be an artist to make some flowers or colourful smudges. They are in trend now!
Some more ideas for you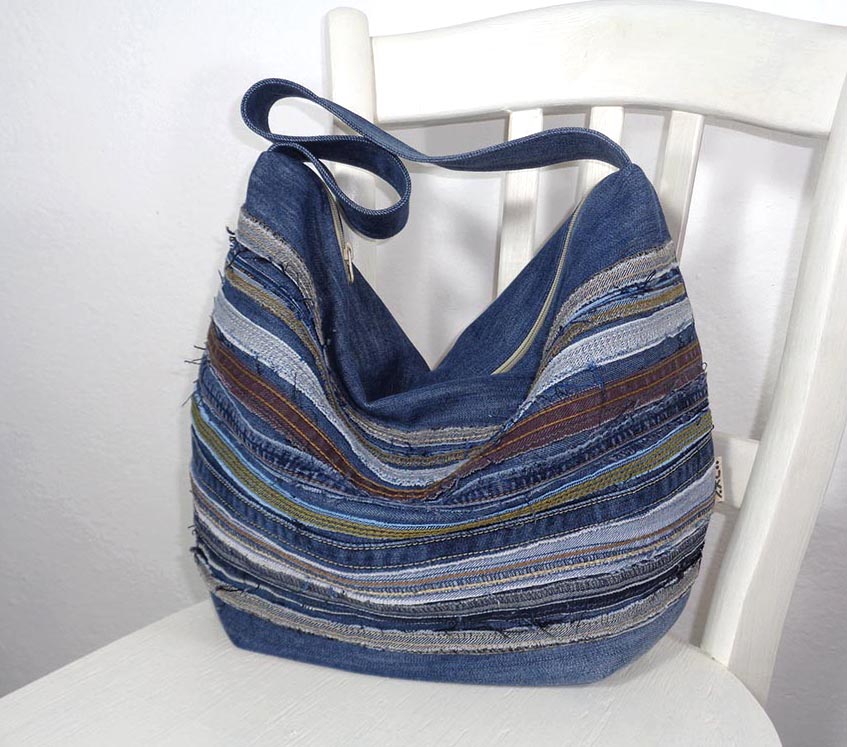 Bleaching
I will be short about bleaching on denim. It is simply unpredictable! All denims react unbelievably different to the chemical, meaning you have to try it on a spare piece for every denim, if you don't want to mess it up. You'd need to work out if it's better on wet or dry denim, applied by sponge or by spray bottle, and is it working at all with a stencil that has no sticky back… Sticky stencils are the best for any technique, but they are not always available. So when you are thinking about bleaching, make sure you do a lot of practicing on spare pieces. And always work in outside or with open window!
There are many ways how to deal with flaws and imperfections of old jeans, with different spots and discoloration. Never give up on a pair of of jeans with some imperfection! Be creative! Most of the times it will look like you have decorated the bag, not just have hidden something 🙂
Have you enjoyed creating with me? >>>Learn some more >>>