Following the great eco idea of recycling old denim for crafting, we usually get the jeans from a second hand shop or car boot sale, or use our family's unwanted items. This means the jeans were worn and require a good preparation for their next life. They need to be properly washed first ready for storing and sewing.
Removing the labels
Before getting the jeans wet, it's worth thinking about removing the labels. Some labels are old and ugly, some are just not situated at the right spot when becoming a bag. Why is it good to remove labels before washing? Because underneath the label there might be some fluff or colour leak, which will wash off. And also because the holes left from stitching will mostly seal up in the wash. If you have some colour staining (usually this happens when labels are real leather), you can always stitch the same or a prettier label onto this spot later, if needed.
Washing and drying
Most jeans have an unpleasant odour of wear or long storage. Especially if you got the jeans from a car boot sale or a second-hand shop, you'd prefer to "wipe off all the memory", as I call it 🙂 There is a new life coming on!
Most of the times the smell does not go away after a usual wash in a washing machine. The best cure is simple and cheap – SODA. Sodium bicarbonate commonly known as baking soda does the deep clean without damaging the fabric!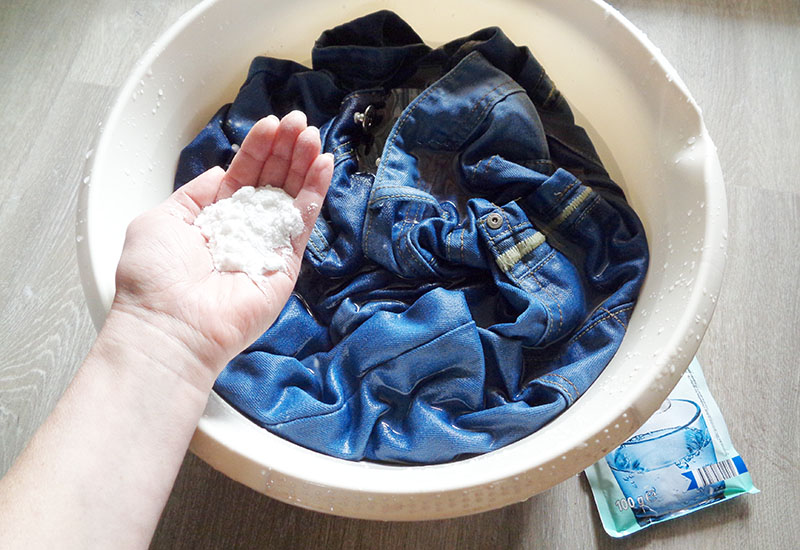 Put your jeans into a tub of water, add soda, toss and leave overnight. I have noticed that aproximately one small handfull of soda per one pair of jeans does the job perfectly. But in some cases you wil require more. After soaking a good few hours, let the water out and wash at 40C cycle in a washing machine with your usual detergent.
Soda seems to work well for yellow stains of heavily soiled pockets and underarms on t-shirts as well. Pour it on the wettened stain areas, leave overnight and wash as normal. Sometimes rubbing is necessary too.
I don't have a drier for my laundry, I prefer fresh air and sunshine 🙂 It's very ecological and an inexpensive way to dry your clothes. Hang the jeans upside down, peg only at the very edge of the legs, this will avoid any crumples and helps with ironing later. Actually, once the jeans are dry, they are quite flat and you can fold them for storage without any ironing.
Do not precut jeans for storage
I have seen a few articles on Web about taking apart your jeans for sewing and storage and I absolutely disagree with them. Taking off pockets and waistbands is cutting yourself short on so many cool decorative details for your denim bags! If your project requires just plain denim, like patchwork – fair enough, you can cut off everything that gets in the way. But I am pretty sure, most crafty fingers will always want to try a variety of sewing projects. And in this case – DO NOT CUT YOUR JEANS untill you know what you will be making out of it.
Each pair of jeans and each denim handbag requires an individual approach. Even if you remove just a waistband you will loose so many opportunities of the bag's decor! Let me give you some examples.
Some bags require ALL of the original parts of the old jeans. This bag uses the waist band, the pockets and the side seams. Nothing is removed here and the pattern piece is being cut upon the existing design as a whole piece:
This classy hobo bag would look too plain without the side seams! Fold it right and cut it right for the awesome look!
The side seams of the jeans legs can be used to add the "denim character" to other bags too. Free tutorial on how to keep the original jeans seams for your sewing project is here >>>
By keeping the bottom hems of skinny jeans you can get the authentic denim look for some reusable gift bags:
Using a waist band for a handle
In the case when the waist band is not used as a décor element, it can be used as a handle or a strap for your denim bag. There is also a very quick way to remove it. Watch the pain-free tutorial here>>>
Do not throw away leftover scraps
There will always be some cut offs with any sewing project you do. Don't throw the scraps away. Those are really useful for making the patchwork bags.
or for the small items, like key chains or tiny pouches:
I hope you have learned something new today 🙂 Feel free to comment below!
For more lessons about sewing with denim check out this page >>>