One of the reasons why we love denim items is the unique wash effect they have on the seams and pockets. And this is why we want to keep that washed look when recycling jeans into new items. It is quite difficult to acheive the washed effect at home, so let's see other options to make out denim to stand out.
How to keep the original seams
Even a plain bag made using jeans legs can look cool and trendy. And the original seams surely add a lot of character to you denim bag.
If the jeans you are using have wide and straight leg, it might be just perfect for your project and you don't have to join anything. But sometimes you have to join more "legs". Or when the jeans are flared or very narrowed at the bottom, then you need some method of joining the denim pieces.
The neatest way
This way is suitable and works best when the denim is thin and the sideseams are not too bulky.
Cut it right
Cut next to the original seam at a distance of about 1-1,5 cm. Preferably on that side of the seam whenre it is tucked under.
Very carefully iron the extra fabric folding it under, along the seam. You should get a very neat seam now.
Sew it right
Place the edge (which we have just ironed) onto the second strip of denim (as by your plan). Make sure there is an overlap of a minimun 2 cm. Pin it in place in a kind of very flat way like on the picture below.
Choose such color of thread that it's almost invisible on your denim. You will be surprised, but a lot of times it's not blue color! It's grey that matches most. However, you will sew very very close to the original stitches, right next to them for the very neat result. Look at the picture below where the needle is. Once you have done one, stitch again next to the second original stitching for strength.
And you are done!
Trim off the excess of fabric at the back if needed and go ahead with your denim project!
No fold side seam
This way is good for the tough seams and thicker denims.
Cut very carefully right near the original seam. Some jeans will be better for this method, some – worse. However, the point is to get as close to the seam but not cut through the yellow stitches.
Pull off and trim the loose threads, there will be some for sure. If you don't do it now, you will find those getting out later 😉
Now place over another piece of denim, per your plan, and sew along the existing stitches, just as with the method above.
The inner seam
Sometimes the inner seams of jeans are looking so good that you wish to use them too. Ah well, nothing can be easier.
Just cut it nearer the seam and iron open. It is now ready to be sewn on. It is much flatter and thinner then the double stitched seam (discussed above), so this decor element is very useful in many sewing projects.
You can also cut the seams out and sew the strips onto a base: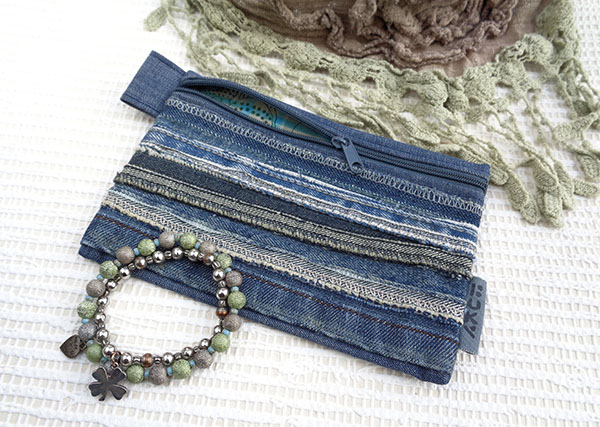 Decorative stitch with a frayed edge
Frayed edge is cool. It might be that leaving some raw edge nearer to the original stitch is a good idea too.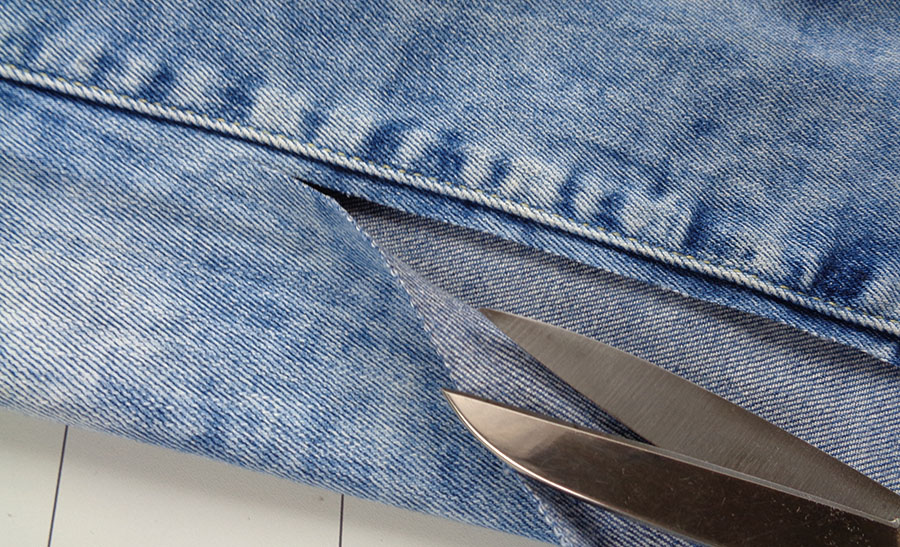 Cut the jeans up along the side seam leaving just a couple of millimeters. Then pin in place onto the other piece of denim. Stitch along with a similar color of thread in two lines.
Rub the raw edge to fray it. It helps a lot to wet the fabric while doing it. Trim off loose threadss and it should look quite cool!
Take a look below at some more samples of bags made using the described techniques: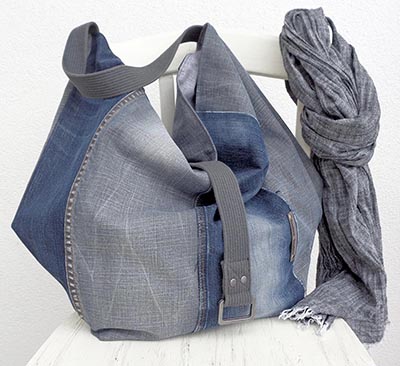 You will find full tutorials and printable patterns for those in the Tutorials page >>>
More lessons about sewing denim are here >>>