The quickest way to join denim pieces
Denim patchwork looks good on almost any project. And in most cases it is also a necessity, because we want to use old jeans and there is usually not enough width in the jeans' legs to fill the pattern piece. So in order to make a canvas big enough for a pattern we have to join denim pieces one way or another.
When we say "patchwork" first thing that comes in mind is a classical patchwork. Lots of squares and triangles sewn together into a mesmerizing design. It looks really good, but it requires some skill, patience and time.
And here comes to play an important role the denim quality as fabric. It's thicker and much tougher then the cotton used in patchwork and this causes some "inconveniences", for instance the seams are too bulky for a classic patchwork.
So what are the possibilities to join denim scraps?
There are some options for making denim patchwork. In this photo tutorial I will show you my favourite way to join up denim pieces it is what I call "raw edge crazy patchwork". I like it because it's fast, easy and allows to use up some plain pieces as well as to show off some "pretty" ones (with wash, crinkle or rips). This way it is easy to make a canvas for your project as large as you need and to end up with quite funky and interesting design. Plus there is that ripped denim look, which is so on trend now.
Other ways to join scraps
Before we continue to the fast and crazy denim patchwork tutorial, take a look at the other two options, I have free tutorials for them too: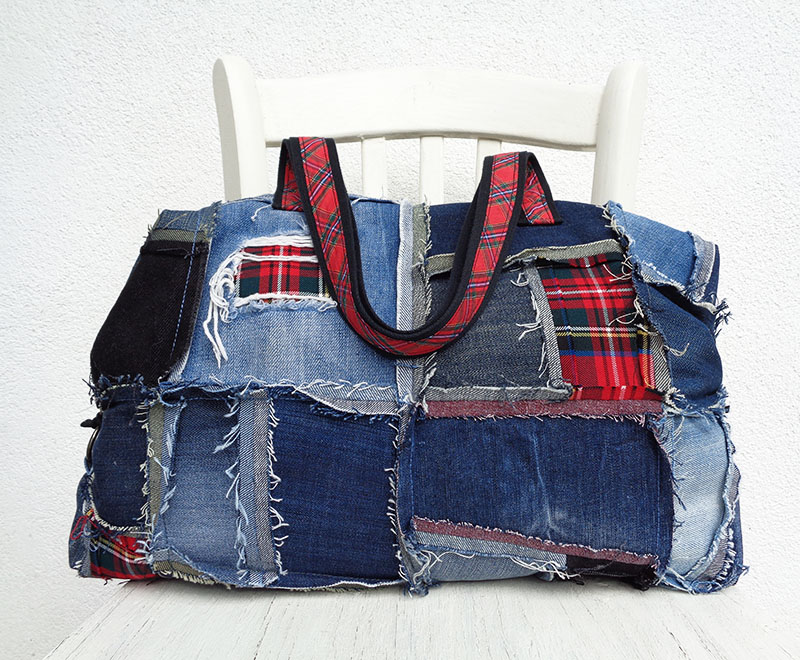 This is adorable raggy looking reverse patchwork! You can learn how to make it in free tutorial here >>>
Another way – is sewing straight parts of jeans legs together. Here I have a tutorial for you you on how to join the legs keeping the original look. This way you will end up with a stripy design and it is good also especially with stone-washed jeans.
Preparation
Comparing to the two other ways of joining denim scraps mentioned above, this crazy patchwork is still my favourite because it's fast, strong, works with any sewing pattern and makes quite a flat surface, which in some cases is better.
It looks random, but there is some thought involved. So let's look into it.
First, cut out your pattern for your project and gather some pieces of denim. When looking through all those swatches, put aside the ones that you like most and wish to use as the main focal points. For instance I like stonewashed parts, discoloured lines from back of knees, crinkles of all sorts and rips. Rips and hems are my favourite!
Iron all your pieces. This will help you to judge the exact size of each piece and the look of it.
From some unwanted fabric cut out the pattern shapes of your project. Those will not be visible after, they are just an extra layer to make the whole canvas stronger and they will also help you with laying the crazy denim patchwork. So, cut fabric pattern shapes upon the paper pattern shapes but 1-2 cm larger – for seam allowances and levelling up. Depending how strong you are planning for your canvas to be, you may use different stuff, such as padding or interfacing of your choice.
Laying out
Decide for yourself where approximately your best pieces should go – in the middle, usually 🙂
Start laying some pieces right onto the fabric. Nice pieces go to the middle and plain ones towards the sides and bottom. Some pieces should go on top of other pieces, some – under. It will turn out nicer if you don't lay them in a "fish scales" way, but randomly. The more random – the better.
Make sure the base fabric is covered with denim pieces completely.
If you have two or more shapes to fill (like two sides of a bag), don't forget to leave some pieces of the same colour denim for later for the other panels of your item.
When you are making a bag with a straight top for instance for a zipper to be inserted, start laying from this straight edge. Make sure that the grain of denim (texture lines) is parallel with the zipper line or the top of the bag. This avoids stretching and makes the result looking neat and professional with a very little effort.
Notes
It can be looking like a mess, but there are some tips to consider.
1. Make sure all the sides of all pieces are overlaid by minimum of 1-2 cm.
2. Make sure the denim pieces are covering the area exact or larger then your base shape.
3. Do not overlay tough parts of jeans, such as waist, button hole, fly (where zip is), crotch point, corners of seams, etc. Too thick places are almost impossible to sew through. Try to keep them apart. And even better sometimes is to remove some thickness (from underneath) with help of seam ripper and scissors.
4. The same should be considered for the edges of the shape, where you will sew later.
5. If there will be a zipper or handles inserted after – make sure there is no tough denim layered on the way of the zipper or handles. Like in this guitar case.
6. If there is a very large overlap, cut some off – the top piece or the underneath one.
Pinning
Once the fabric shape is completely covered with denim pieces and you are happy with your layout, pin everything down to the base fabric. Pin in many places, so that the whole thing stays flat and holds together. Don't forget the corners of each piece. Place pins in the way that is easy for you to handle the whole canvas while sewing and to be able to remove pins as you sew.
Sewing
Sew right over, through all the layers (and the base fabric), along the edges of every denim piece.
Remove pins one by one just before they get under the machine foot.
I usually sew twice – first time with a straight stitch at about 0,7-1 cm distance from the edge, removing pins along the way, just before they are getting under the machine foot. And then I stitch for the second time with a narrow zigzag stitch and right at the edge. This makes it all stronger and the zigzag helps to fray the edges.
Your canvas is ready to use for your project
With a wet cloth rub against each zigzag edge to fray it slightly more. Iron the whole canvas now, place your paper pattern on top, secure it and cut out the desired shape.
Using the base as a lining
In some cases, usually for small pouches, the base fabric can play a role of a lining as well, just choose some nice fabric for your base/lining and stitch everything with a matching colour thread. This works really well with a pencil case like this >>>
Good luck with your project! I am sure, whatever you are making will come out quite funky with this crazy denim patchwork technique.
As you can imagine, the denim canvas made this way is very strong and thick, so it is very suitable for making bags, pouches, cushions and furniture pieces, such as foot stools, bean bags, wood carriers or storage baskets.
Learn more about sewing with denim here >>> and find some awesome denim projects here >>>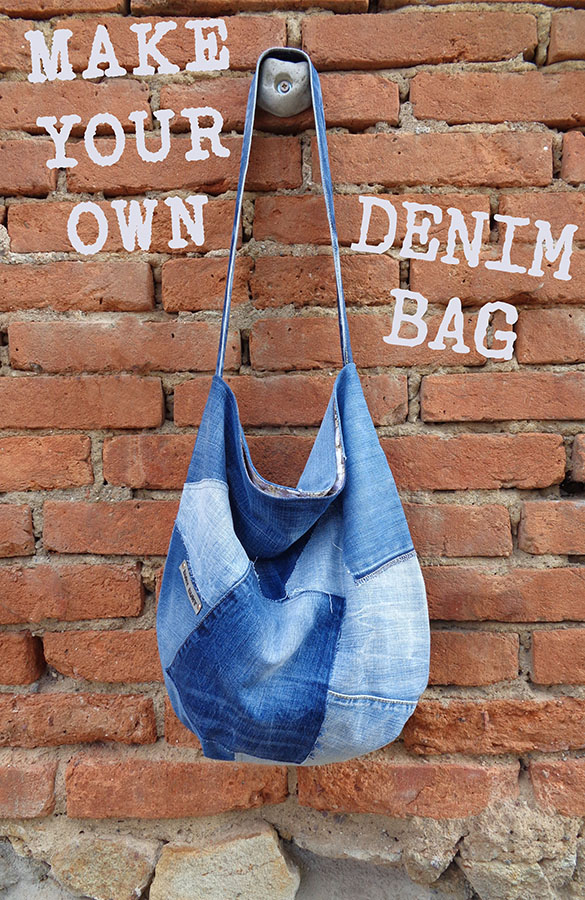 Have you tried sewing anything with denim scraps? Share it on Instagram and tag me @makeitindenim, so that I can see it too 🙂