Make your own very stylish and comfortable everyday bag!
The instructions and printable pattern are very simple and you can make this tote bag with almost any other fabric, but denim is always on trend! And using old jeans helps our Mother Nature in a very big way!
The coolest thing about this bag is that it can be made using only one pair of jeans!
The fun of this project is to keep that cool denim look: pockets, seams. Some jeans are so great-looking (but don't fit for instance), then it's really fun to turn them into a bag, something that you can still use and enjoy!
In this tutorial I will show the hardest layout, the most interesting and difficult version — using the original pockets and side seams! But be prepared for some bulky places 😉
However, you can use this pattern to make bags with a different design. But choose some rather thick fabric – for the sides to fold in nicely and for the bag to keep it's shape.
This PDF pattern and instructions to make a tote bag with folded sides is printable on A4 paper.
Instant download. You will receive tree PDF files to your email immediately after payment.
One – The step by step instructions with photos in 20 pages. You do not need to print those, just follow on screen.
The other two – The printable patterns of the exact sizes, print and join the pages as explained in the tutorial.
If you are using Apple OS, do not print through Preview App but through Adobe Acrobat Reader.
All files are in English and full of photographs.
I'd rate the difficulty level as easy to medium. It's an easy bag, but you do need some sewing experience when it comes to jeans recycling.
A good sewing project for denim lovers and eco thinkers!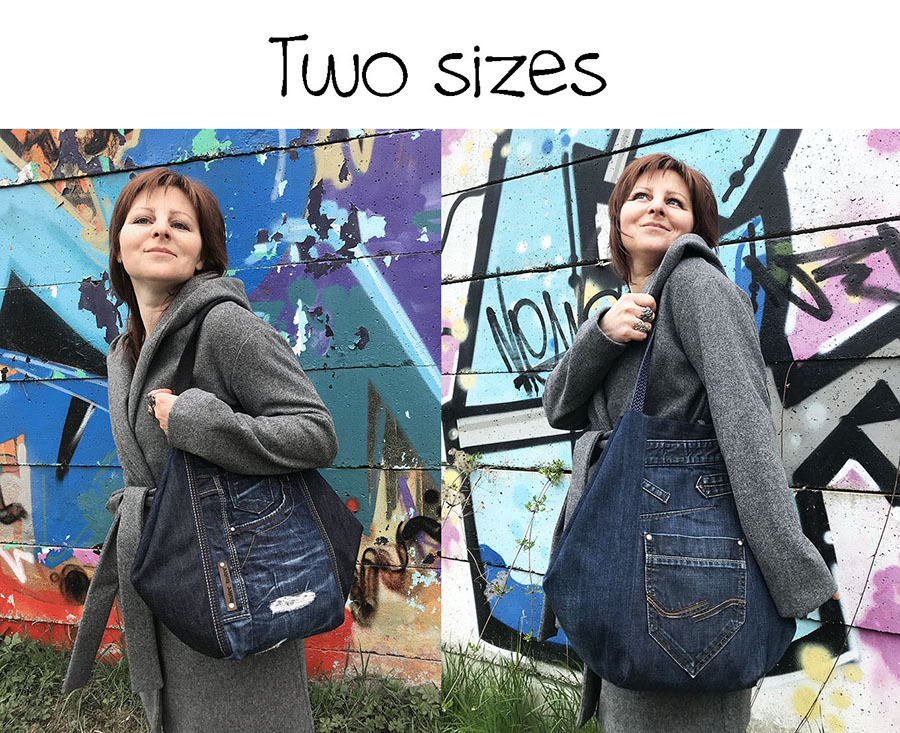 Sizes of the finished bag:
Wider bag:
H: 35-36cm
W: 43-46cm
D: 12-13cm
Taller bag:
H: 39-40cm
W: 42-44cm
D: 12-13cm
The jeans for this project should be size Medium or above. The width of the front of a leg from seam to seam should be min of 7,5" (19cm). The wider — the better and easier to work with 🙂 All details will be explained in the tutorial.
You will also need:
Fabric for lining.
Handles (webbing or it can be made with denim).
Magnet snap (optional but preffered).
Catch (carabiner and/or string) to keep the bag closed in the middle.
Some interfacing.
This pattern download can be purchased here: