Hip bag without curved zippers or bias tape!
Let's learn how to make this small and comfortable DIY fanny pack. Bum bag, belt bag, moon bag, belly bag, waist bag – there are so many names for this awesome accessory. Wear it like a belt around the waist or across the body by the recent fashion. Denim fanny pack looks quite cute and unusual and is great to carry a few small items and have your hands free.
This version of the hip bag does not require sewing zips in curves, so it's quite an easy version of a DIY fanny pack. The pouch is not exactly flat either, but the volume is at the bottom, not at top, which makes it different from you used to see, yet comfy.
Using old jeans for your craft projects helps our Mother Nature in a very big way! This bag is a great sewing project for the green crafters and eco thinkers :))
I'd rate the difficulty level as easy to medium. It's not too complicated, but you do need some sewing experience.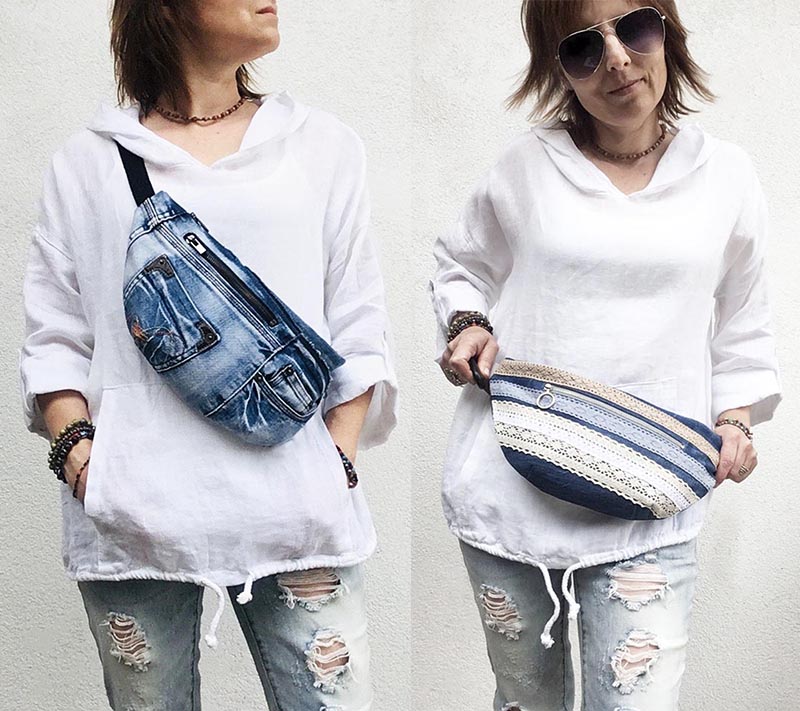 The tutorial is full of photos and detailed step by step instructions.
How to insert zippers and how to feed the strap – all is in there. Plus a BONUS – how to plan and cut the jeans to keep that cool denim look, pockets and seams.
Size of the finished fanny pack:
Width when flat 15 1/2″ (40 cm)
Height when flat appx 7″ (18 cm)
To make this fanny pack you need:
To make this waist bag you will need:
Some denim or other thick fabric for body (two pieces of 25x45cm / 10″ x 18″)
Some thin fabric for lining, I advise cotton (two pieces of 25x45cm / 10″ x 18″ PLUS for pockets)
1 m (40″) of strapping/webbing of 2,5 cm (1″)
1 buckle for the 2,5 cm (1″) webbing
1 adjuster/slider for the 2,5 cm (1″) webbing
1 top zipper minimum 25cm (10″) (better plastic)
1 or 2 zippers for pockets (optional and depends on your design, min 20cm (8″))
Get the sewing pattern
This printable pattern and step by step instructions with tons of photos can be purchased from: